Hav A Sole's

 mission is to provide the homeless and at risk youth population with quality footwear to encourage healthier lifestyles and prevent disease, while fostering a sense of community along the way.
As a young boy, Hav A Sole founder, Rikki Mendias spent years in a shelter with his mother. During that challenging time they couldn't even afford to buy a pair of shoes. One day a former resident noticed he had holes in the bottom of his sneakers and took him to buy two new pairs. Rikki never forgot her kindness, but the feeling he got from having new kicks, spawned an insatiable need in him to collect shoes.
Fast forward, to 2014, Rikki had over one hundred and fifty pair of shoes, when he suddenly realized there were people out there who had none. That's when he loaded the back of his car and drove the streets until he found someone who could benefit from a newer pair of shoes. With their permission, RIkki took a before and after photo and posted it on social media. Inspired, many of his followers started sending in tennis shoes from all over the country, and that's how Hav A Sole was born.
I want to thank everyone that has shown interest in this project. Together, I believe we truly can help one sole at a time. 
-Rikki Mendias, Hav A Sole Founder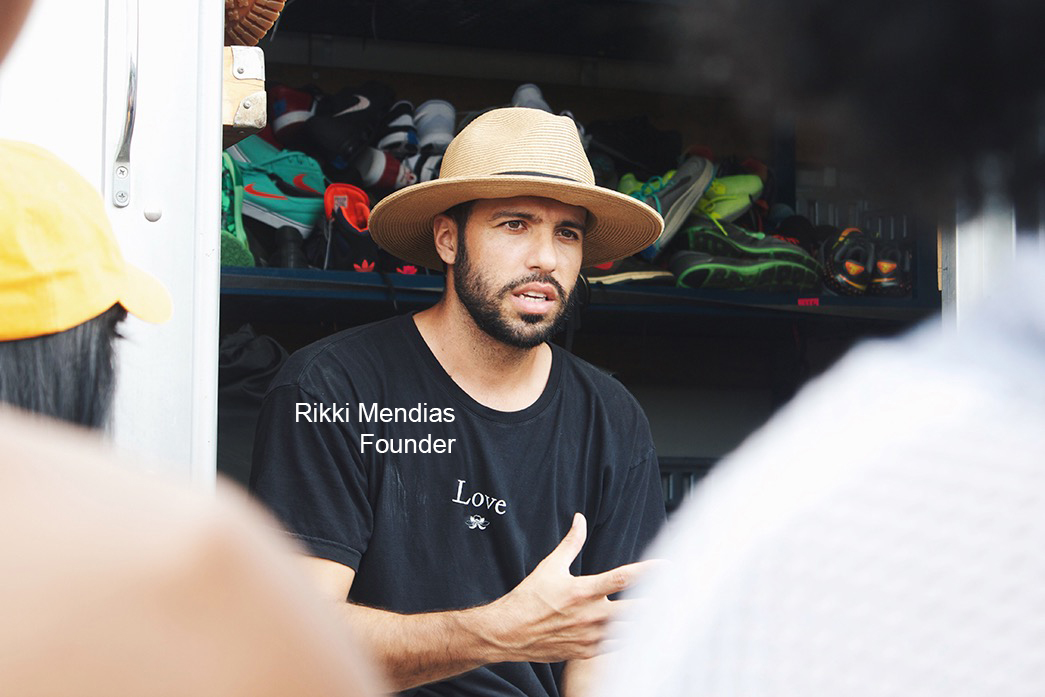 On March 14th Hav A Sole launched its sixth and most epic road trip to date. The journey began in Los Angeles at the local Finish Line Store where Hav A Sole received a huge donation of shoes. The following day Rikki, Dash and Matias hit the road stopping at Finish Line stores in Albuquerque, Oklahoma City, St. Louis until they picked up nearly 600 pairs of shoes. After 6 days of driving and stopping to give out shoes along the way the guys finally reached their destination at Finish Line Headquarters in Indianapolis where there were greeted with a whole lot of love.
During their stay in Indy, Hav A Sole partnered with the Finish Line Youth Foundation, Herbert Simon Family Foundation and Pacers Sports and Entertainment to host a sneaker give away at Outreach Inc. There was definitely something magical that happened as so many people came together to give out shoes.
Hav A Sole was later invited to attend a Pacers game. The guys were stunned when they were presented with a check from Herbert Simon Family Foundation and Finish Line Youth Foundation just before the game at center court.
Hav A Sole would like to extend its heartfelt appreciation to all our friends for your generosity and support. It is through your support and commitment that 'passing it on' has become fluid by design. And just like a stone tossed on the surface of the water, the ripple effect becomes wider, transforming the lives of all the people that stand in its wake.
In December, Hav A Sole hosted a special event at the Union Rescue Mission on skid row. We joined forces with a young girl named Tanya who spent a year at the same mission with her family. For the event we brought toys, books, stuffed animals, children's clothes and shoes. It went smoothly and all the kids left with something great. As we started clean up, a single mom, with two teenage boys and two younger girls arrived late. They headed straight to the shoes but it was slim pickings by then.
"What size do you wear?" Rikki asked Elijah, the younger boy.
Unfortunately we didn't have their size but Rikki promised he would come back another day with shoes for everyone.
Elijah and his family thanked us and were extremely gracious even though they didn't get anything. As they left, they all wished us all a Merry Christmas.
Rikki realizing Elijah and Dash were the same size, and said, "You won't give up your shoes?" challenging Dash right there.
"Who won't?" Dash said, raising an eyebrow.
Rikki ran into the hallway and tells Elijah to come back, we have a pair for you to try on.
"If the shoe fits you can have them," Dash explains. "If not we'll come back with a different pair.
"Are you serious?" Elijah said, beaming.
Dash slipped off his black and white Jordan Concord's and pushed them over to Elijah Elijah slipped his foot in and said, "Oh, they fit!"
Elijah smiled from ear to ear and embraced Dash. Most of us had tears in our eyes as we looked on at this tender and beautiful moment. Dash went home shoeless but with a full heart.